Our Staff
Dr. Tom Randall, DVM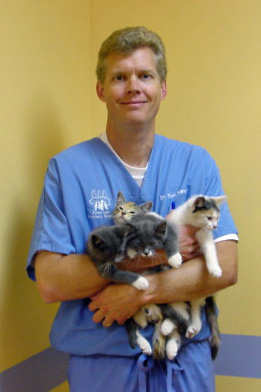 Dr. Randall graduated from the University of Minnesota College of Veterinary Medicine in 1991. He has been practicing at Forest Lake Veterinary Hospital since 1997. As owner of the Hospital for over 20 years Dr. Randall has been essential in the growth of the practice and development of strong ties to the Forest Lake community. He sold the practice in 2019 and is enjoying his primary focus back on patient and client care. As a general practitioner Dr. Randall enjoys all areas of medicine and surgery. Six years at a practice that included an emergency service fostered a special interest in emergency medicine and surgery. His favorite part of practice remains new puppy and kitten exams.
He is married and has two children. His hobbies include woodworking, hiking, enjoying the cabin, running and an occasional triathlon or marathon. The Randalls have 2 cats (Frisco and Maggie) and one dog (Juno).
Dr. Susan Brenteson, DVM
Dr. Susan Brenteson is a 2005 graduate from the University of Minnesota College of Veterinary Medicine and she is a certified veterinary acupuncturist.
Dr. Brenteson took over ownership of the Forest Lake Veterinary Hospital in 2019. She is excited to continue growing the practice and offer the best in patient and client care to the Forest Lake and surrounding community.
When not at work, Dr. Brenteson can be found volunteering for a local animal rescue helping shelter animals back to health.
In her free time her leisure activities include running, and mountain biking with her husband, Steve, and spending time with her own two dogs and cats.
Dr. Jennifer Jelinski, DVM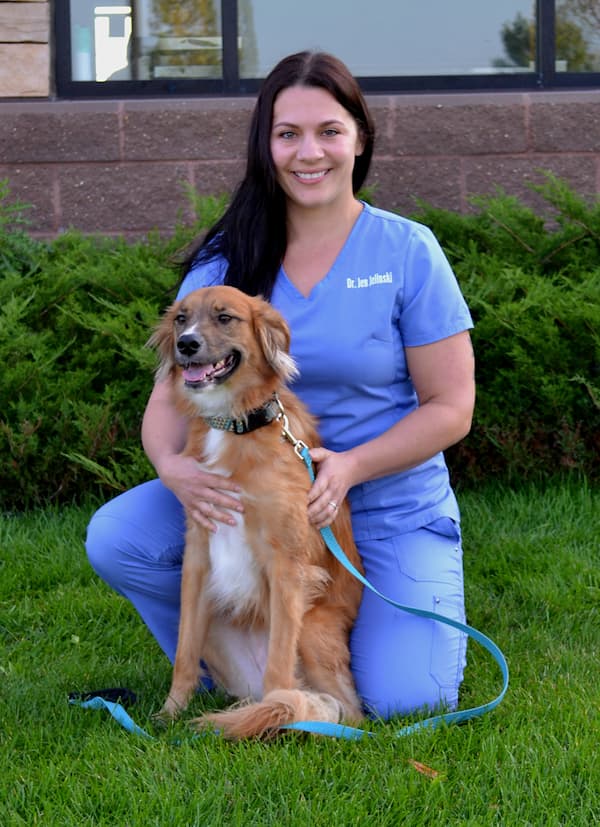 Dr. Jen Jelinski was born and raised in Madison, Wisconsin. Following completion of her undergraduate studies at UW-Madison, she was commissioned into the United States Army, where she served for 8 years as a Transportation Officer, both on Active Duty and in the Minnesota National Guard. After her time in service, Dr. Jelinski attended veterinary school at the University of Minnesota College of Veterinary Medicine, and began practice working as a mixed animal veterinarian. Working with both large and small animals allowed her to explore many aspects of the veterinary field, and she has since found a special interest in small animal preventive medicine and soft tissue surgery. Outside of the clinic, Dr. Jelinski enjoys exploring Minnesota's natural resources with her husband, son and two Australian Cattle Dogs. Her hobbies include painting, reading, hiking, camping, aerial arts and acrobatics, and spending time with family and friends.
Dr. Breanna Pool, DVM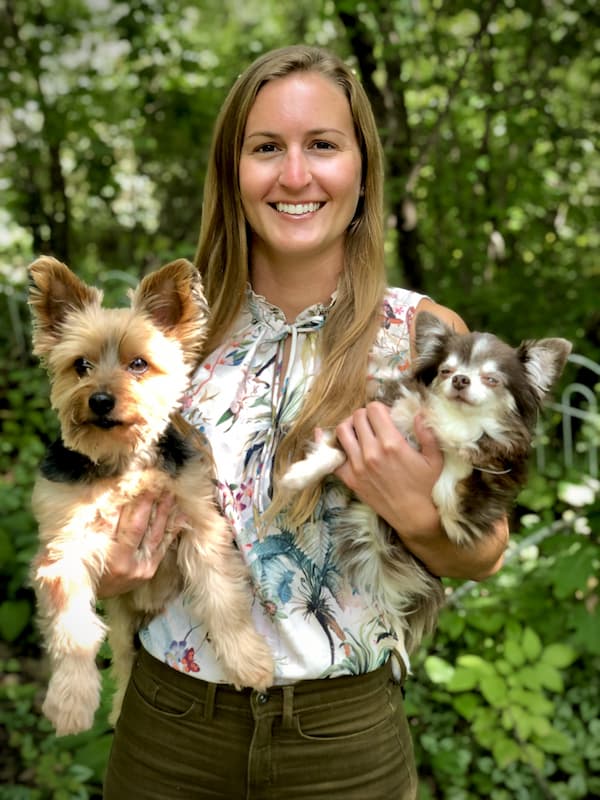 Dr. Breanna Pool is a graduate of the University of Minnesota College of Veterinary Medicine. Dr. Pool's favorite animal is the dairy cow (and the dog, of course), hence why she spent most of vet school planning to be a rural mixed vet. Today she is working exclusively with small animals and finds every day fulfilling. Some of her favorite things are gardening and landscaping, the outdoors, fishing, lake life, traveling, reading, cooking and baking. She has two dogs - Oscar and Coco Puffs. As portrayed in the image here, Miss Coco Puffs is entirely bored by any photo opportunity.
Rita, Client Service Representative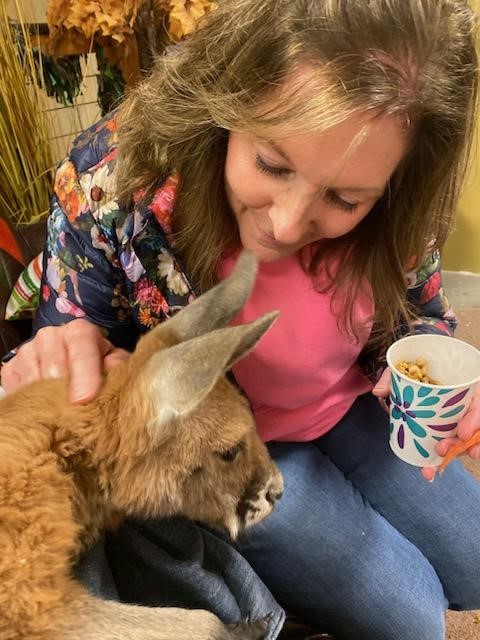 Rita made the transition from client to employee in 2011. She is the first to admit she could have been the inspiration for the crazy cat lady figurine!
She and her husband Kevin live in Forest Lake where they share their home with some very spoiled cats. They have two adult children.
Rita's favorite things in life include family, animals, and spending time with her two grandsons.
Rita feels like she has hit the jackpot with having a fun and interesting job, a houseful of cats that all get along and getting the very best grandsons in the whole world!
Cassie, Client Service Representative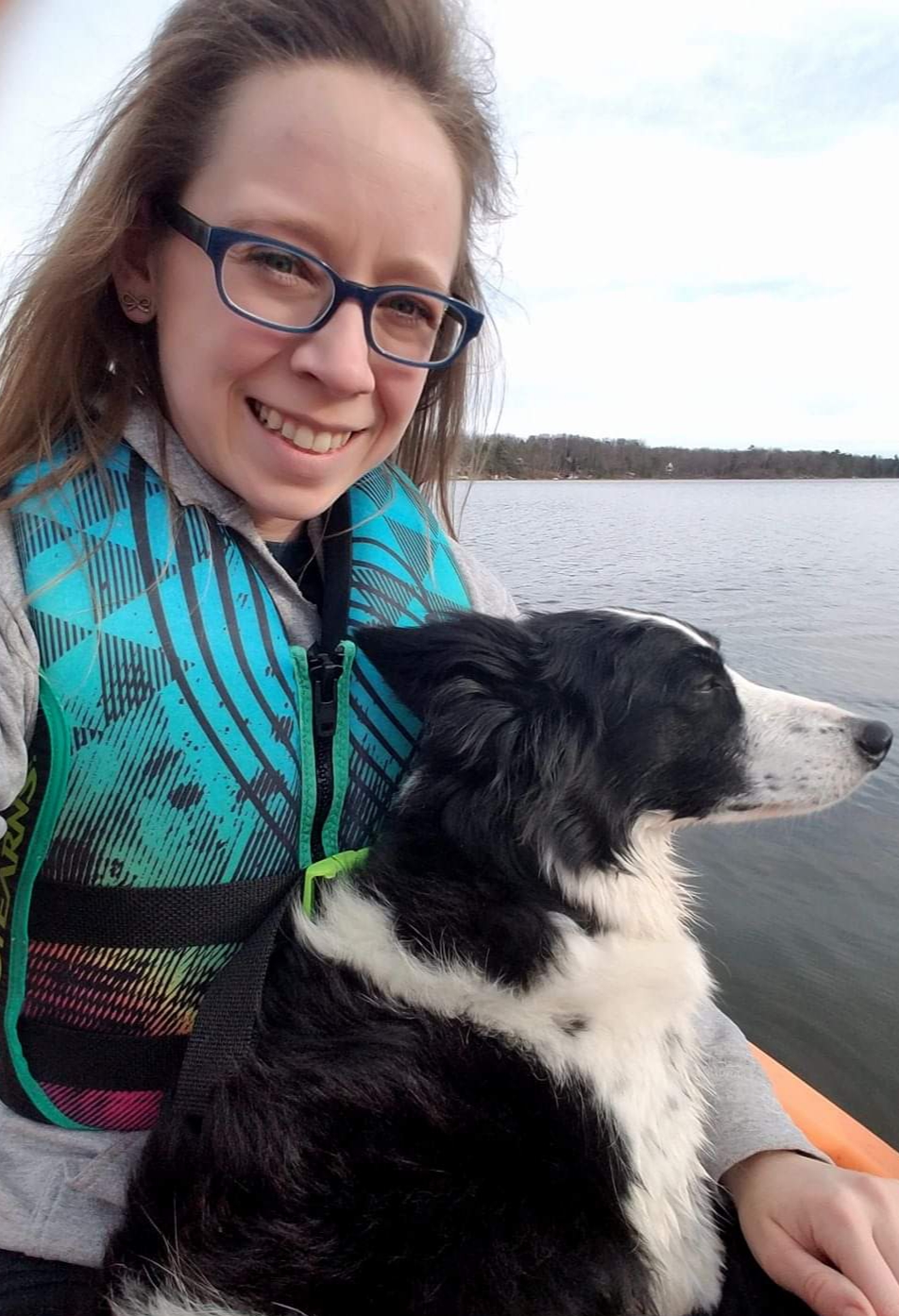 Cassie transitioned from client to staff in January of 2018. She has always loved animals and enjoys getting to be the smiling face that greets our patients and their owners when walking in.
Cassie has a degree in intercultural studies with a track of child and youth in crisis as well as a music minor. Her plans were once to do long term missions overseas having been to Africa on two separate occasions serving for three months each time, but her health has lead her down a new path and her love of animals is fully enriched in her position at our clinic.
When she isn't working Cassie enjoys adventures with her husband Jacob. Together they can be found fishing, camping, hunting, gardening or enjoying nature in any other way. They also enjoy spoiling their own fur/feather babies; Sassy their border collie, Turtle Jack Moby Chubs their cat, Bessie, Cruella and Truffle their chickens, but they are known to share their love through fostering cats in need.
Jenny, Veterinary Assistant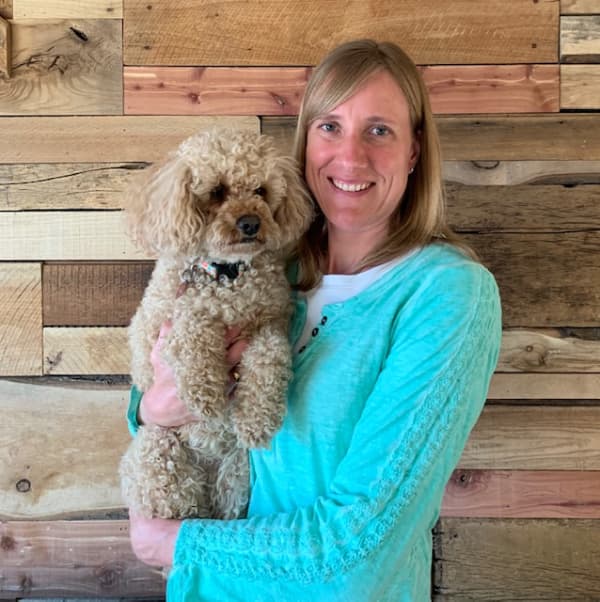 Jenny has been with us since October 2018. She is thrilled to be working with animals again after taking time off to raise her children. She lives on a hobby farm in Chisago City with her husband, 2 kids, their beloved cockapoo Juna (and all their cattle and chickens). In her free time, Jenny enjoys spending time with her family, watching her kids play sports, volunteering and gardening.
April, Client Service Representative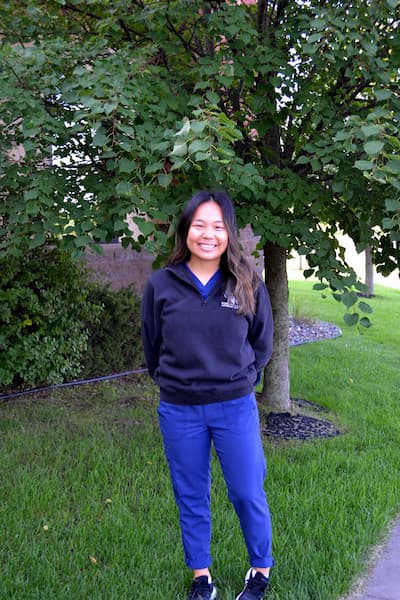 Bio coming soon!
Shelby, Client Service Representative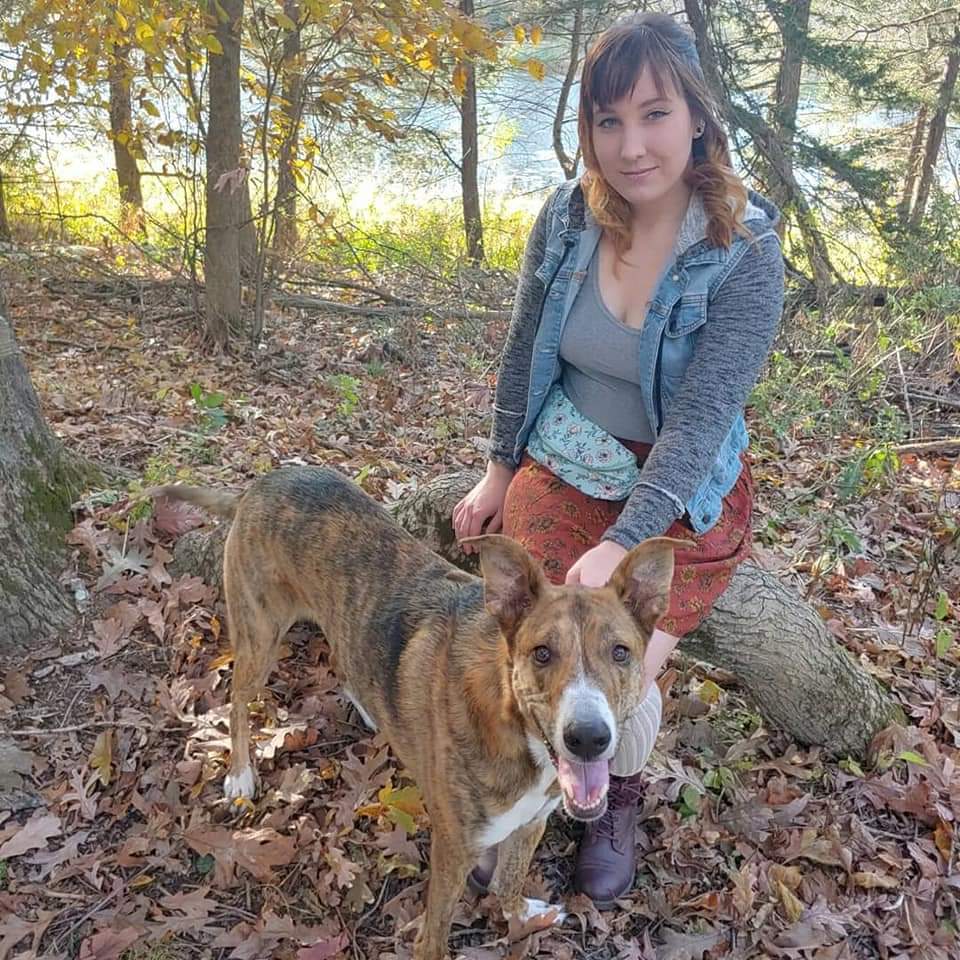 Shelby has started her journey into her dream career with us in July of 2021. She has always had a passion for animals and is now working as a CSR, helping educate clients and taking care of patients with her amazing talent to be very personable and her ability to empathize. Her growing love and passion for the animal care industry has led her to wanting to learn more everyday so she can better help those who love their animals as much as she does! Her passion and eagerness to learn has even inspired her to grow her education with a few veterinary field related classes!
Shelby lives with her amazing fiance and their first fur child Olivia who has been with them from the start. In their free time, Shelby, Olivia and her fiance are quite the outdoorsman with hiking, swimming, fishing and much more!
At the very end of 2022 her household has welcomed their first kitten into their growing family named Willie Jack, who has brought so much energy, laughter and joy with her goofy but smart personality!
Shelby is happy to be a part of the FLVH family and feels blessed to have a job that feels like a second home.
Nicole, Veterinary Technician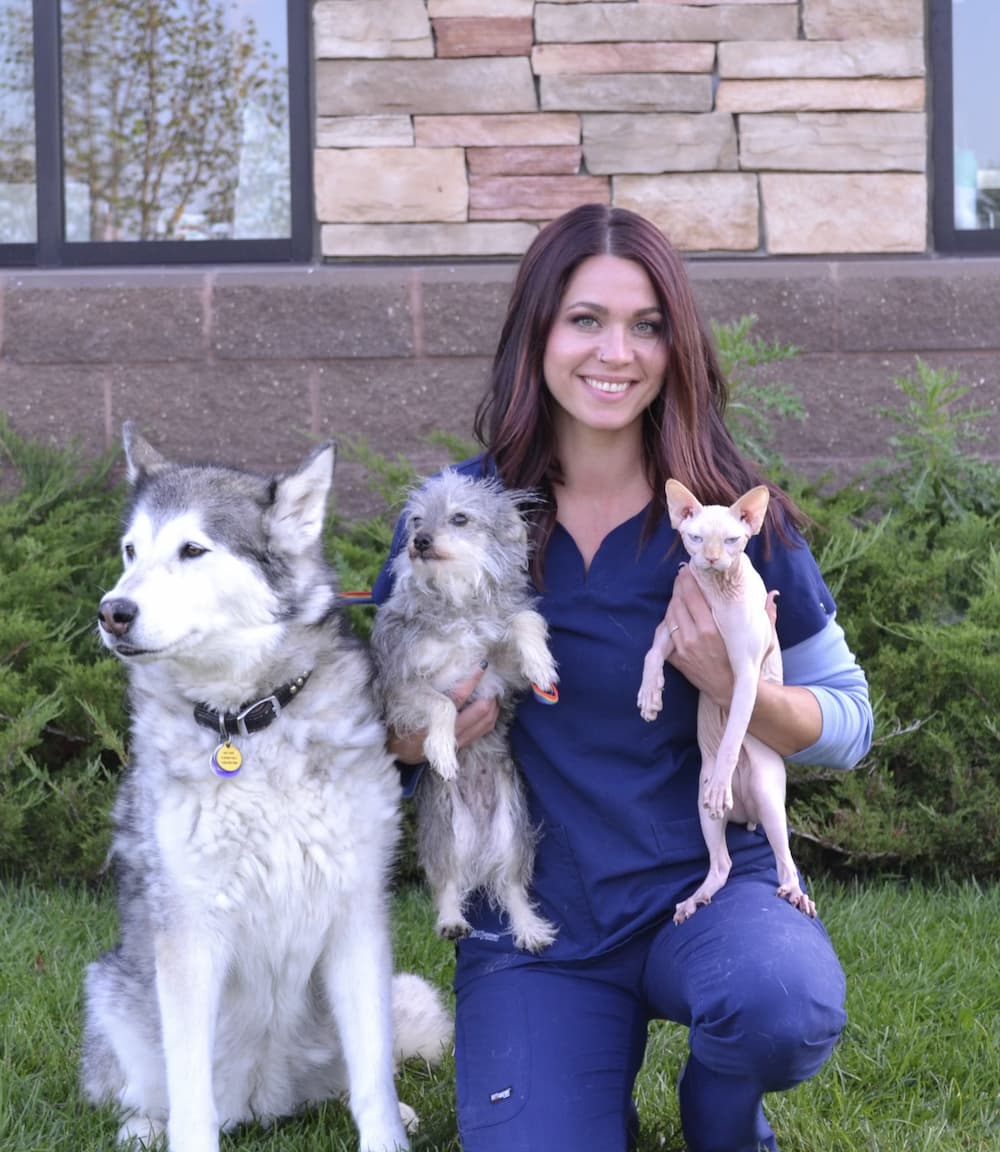 Nicole has been with us since August of 2014. She graduated from Argosy University in 2010. She loves being a Veterinary Technician! Her favorite part of being a tech is the variety it brings. She loves getting to be involved in all different aspects of the medical field. Nicole and her husband, Brock have three children. They also have two dogs, a cats, a horse, and a chameleon. There is never a dull moment at their house!
Krista, Certified Veterinary Technician
Krista graduated from Minnesota School of Business with a degree in Veterinary Technology in 2010, and shortly after passed her certification test. Krista joined our practice in 2015, although she has been working in the industry since 2008. Her favorite parts of veterinary medicine is dentistry, behavioral/anxious animals, diabetes, and client education. She has 2 dogs, 4 cats, and 2 guinea pigs. In her spare time she likes to spend time with her husband and 3 kids, craft, and volunteer with Safe Hands Rescue
Jess, Veterinary Technician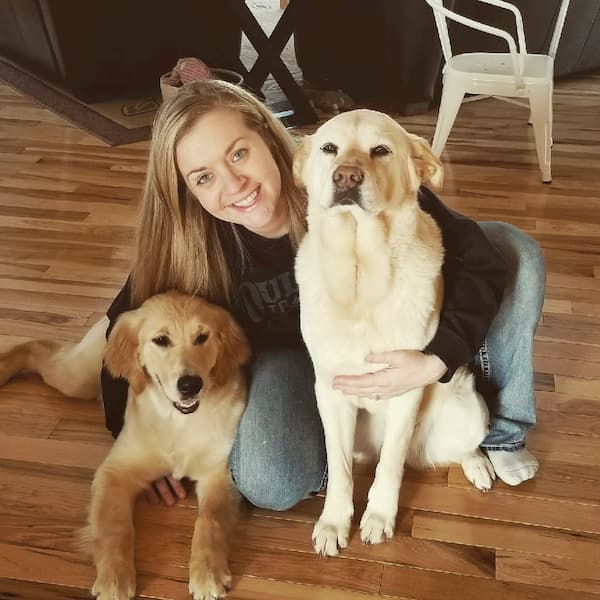 Bio coming soon!
Kristi, Veterinary Technician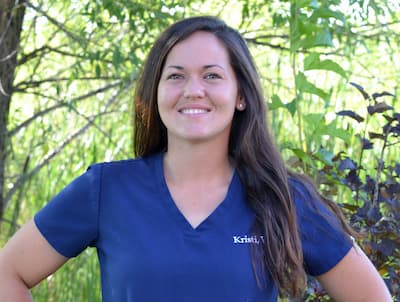 Kristi graduated from Globe University in 2017 with a degree in Veterinary Technology. She joined the practice in 2019. She loves her job and takes pride in assisting patients to live happy healthy lives. There is not a day at work she isn't smiling. Kristi has two sons, Anthony and Devon. They have one dog, Digger, and one cat, Bobby. Together, Kristi and her sons enjoy football, fishing, hiking, seeing wildlife, and being outdoors.
Christine, Certified Veterinary Technician

Christine graduated from MIM in 1994 with the intent to work in zoo medicine. Landing her dream job at Fossil Rim Wildlife Center in Texas learning everything about African Safari animals and a love for lab work. She returned back home 7 years later to learn about small animal medicine and raise her 2 girls full time.
2020 brought more new changes allowing Christine to join our team in September to be closer to home and have more time with her girls. Christine has 3 cats and a bearded dragon.
Gabby, Certified Veterinary Technician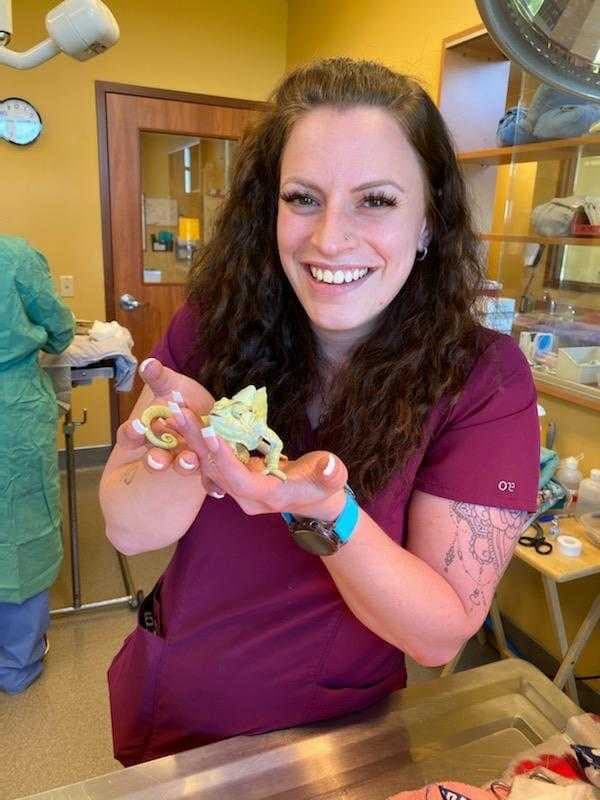 Gabby has been working in the veterinary field since 2016 and joined the team at FLVH in 2020. She earned her vet tech degree from San Juan College Veterinary Technology program. In addition she graduated with a bachelors degree from Saint Cloud State University. She then continued her education by passing her Vet Tech National Exam and has been working as a Certified Veterinary Technician ever since. At work she has a special interest in exotic and pocket pets, radiology, and surgery. When she is not at work, she enjoys lake life, friends, family and spending time with her dogs, cats, rabbit, and fish.
Kiva, Veterinary Technician/Veterinary Student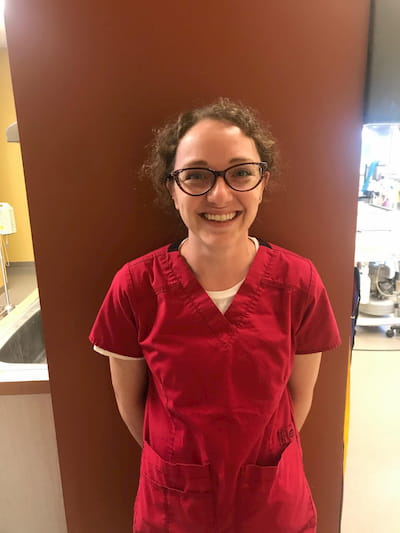 Kiva is in her second year of vet school at the University of Minnesota and worked as a technician in California for seven years before moving here with her two cats and two dogs. She volunteers with VeTouch, a monthly free clinic for pets in Minneapolis, and Kitty Revolution, a St. Paul-based cat rescue. In her spare time she enjoys reading, walking her dogs, and laughing with friends.
Nicole, Veterinary Technician/Veterinary Student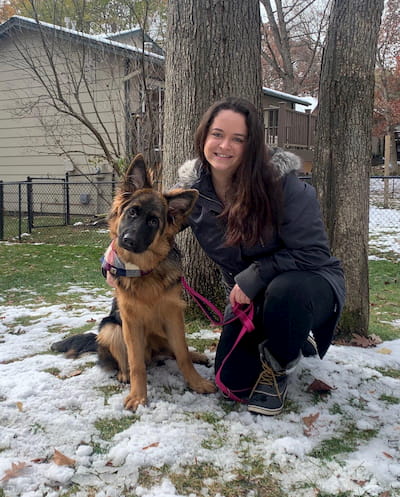 Nicole is currently a veterinary student at the University of Minnesota, and she has been with us since April 2020. She enjoys working with clients and their pets to make the experience as stress-free as possible. Her favorite parts of the veterinary field include nutrition, behavior, and preventative medicine. Nicole and her fiancé share their house with their German Shepherd (Valley), cat (Mittens), and several pet snakes. In her free time, she enjoys birding, reading, and spending time outdoors.
Liz, Veterinary Assistant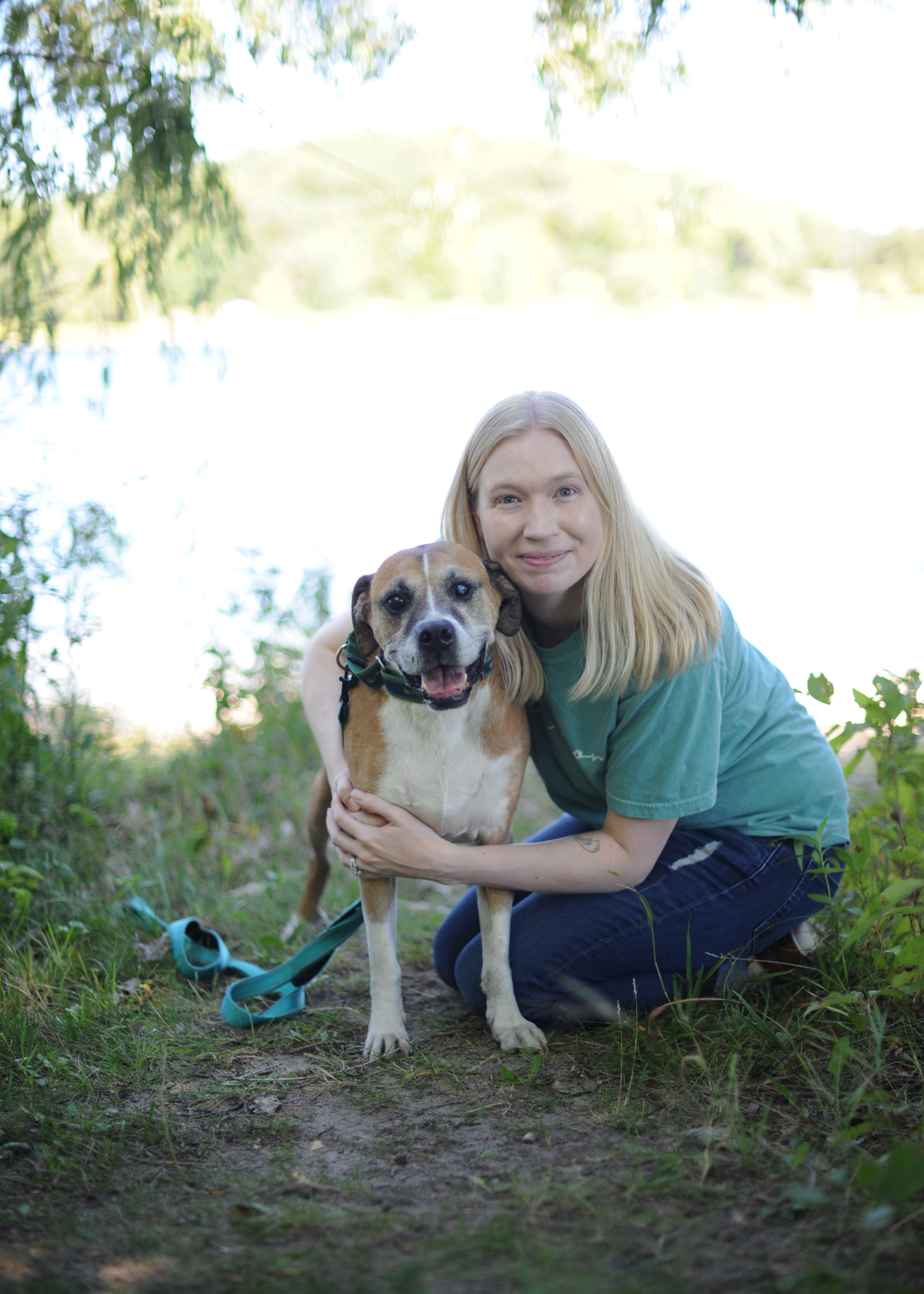 Liz joined the FLVH family as an assistant in 2020 after having been a longtime client. She spent a few years as a groomer and has been a dog trainer since 2008. She enjoys reading, baking, quilting, and fishing in her spare time. Liz resides in Forest Lake with her husband, three Boxers, a Bloodhound, an English Setter, three cats, and a tortoise.
Lilly, Veterinary Assistant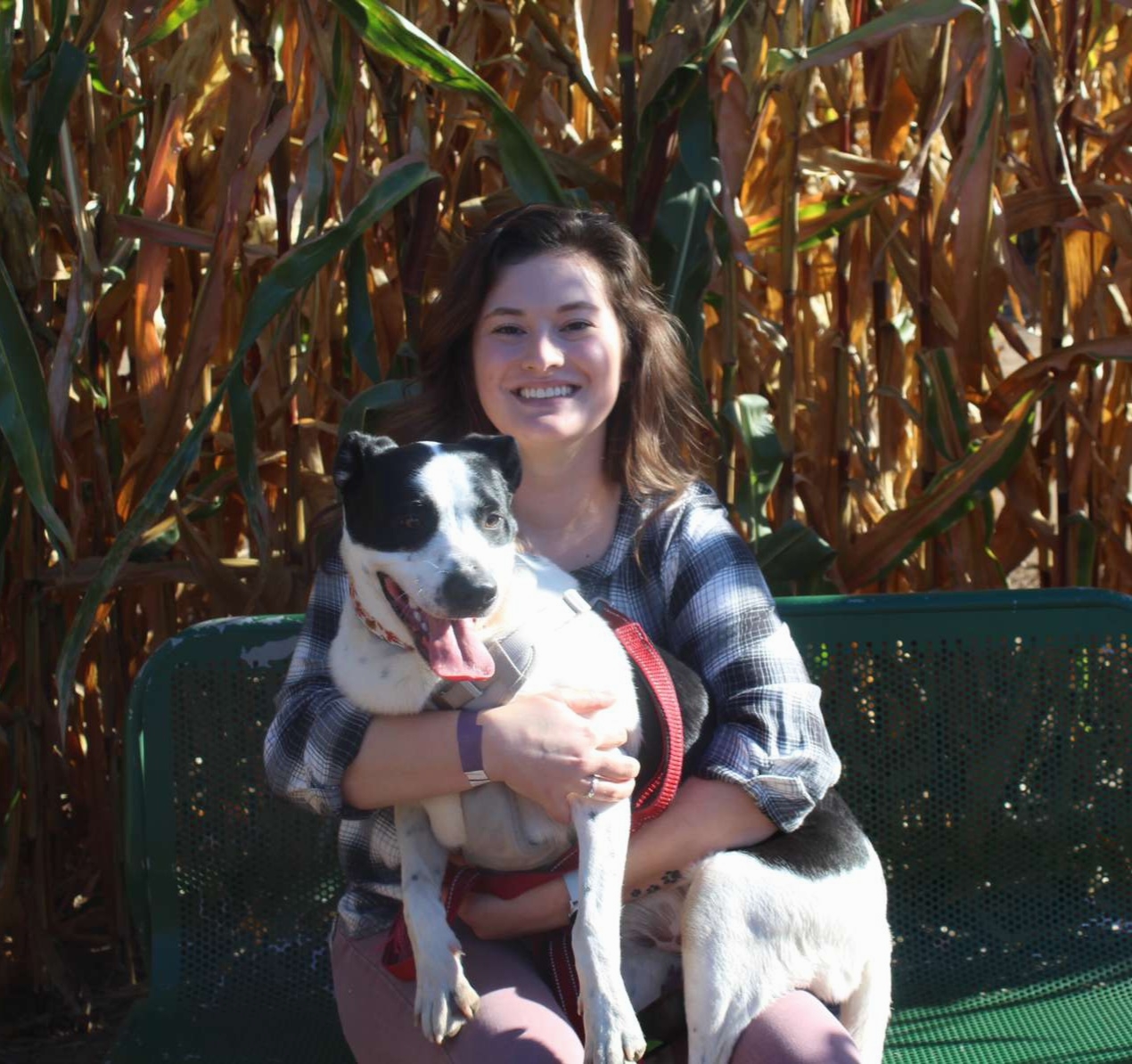 Lilly is a veterinary student at the University of Minnesota. She has special interests in zoo/wildlife medicine as well as emergency medicine and critical care. She grew up in central Minnesota and enjoys anything to do with the outdoors. In her free time she enjoys running, golfing, exploring with her cattle dog mix Sully, and cuddling her 2 cats Maui and Daffodil.
Nicole, Veterinary Technician
Nicole graduated from Minnesota School of Business in 2009 with an Associates degree in veterinary technology. She is currently enrolled in school at Rasmussen College in Business Management.
In her spare time, she enjoys boating, long motorcycle rides, and ice fishing.
Chloe, Custodian
Bio coming soon!