Lily's Page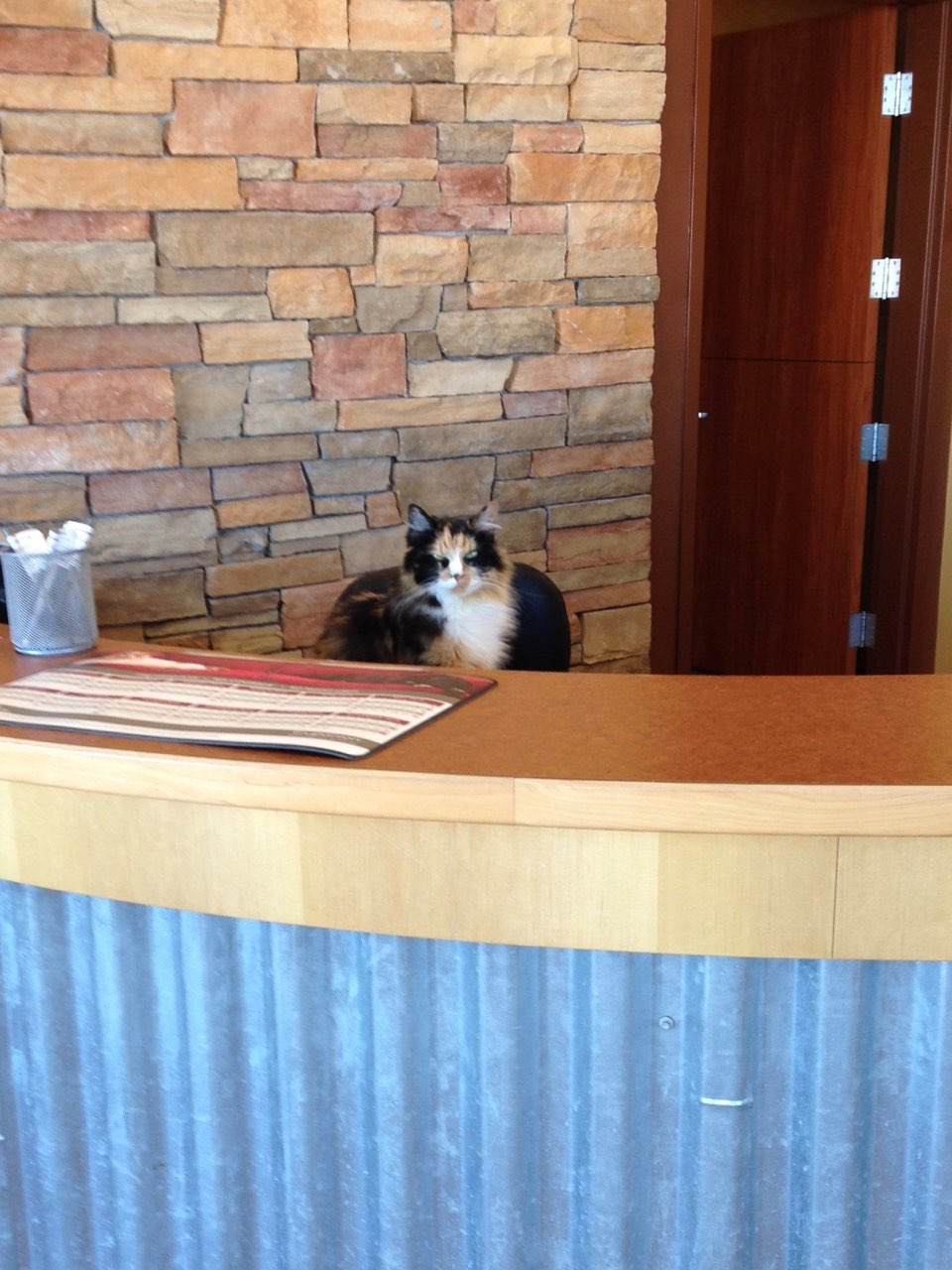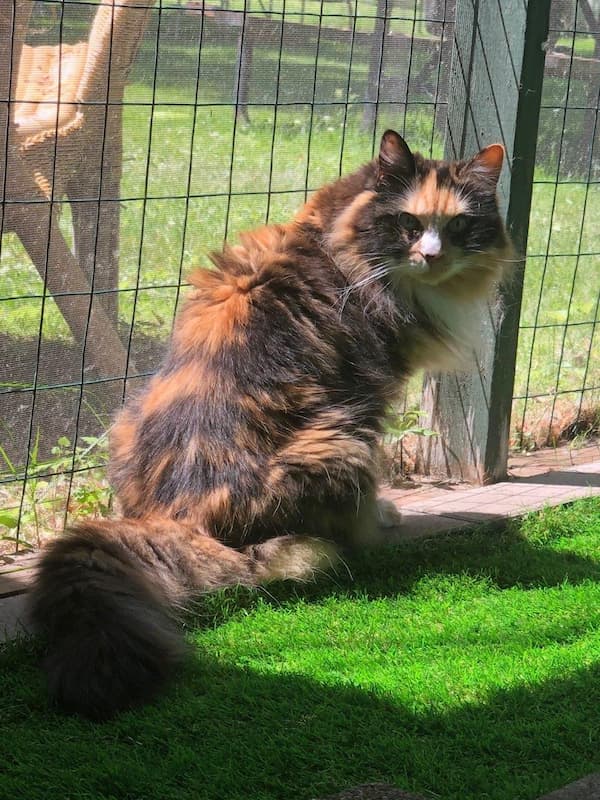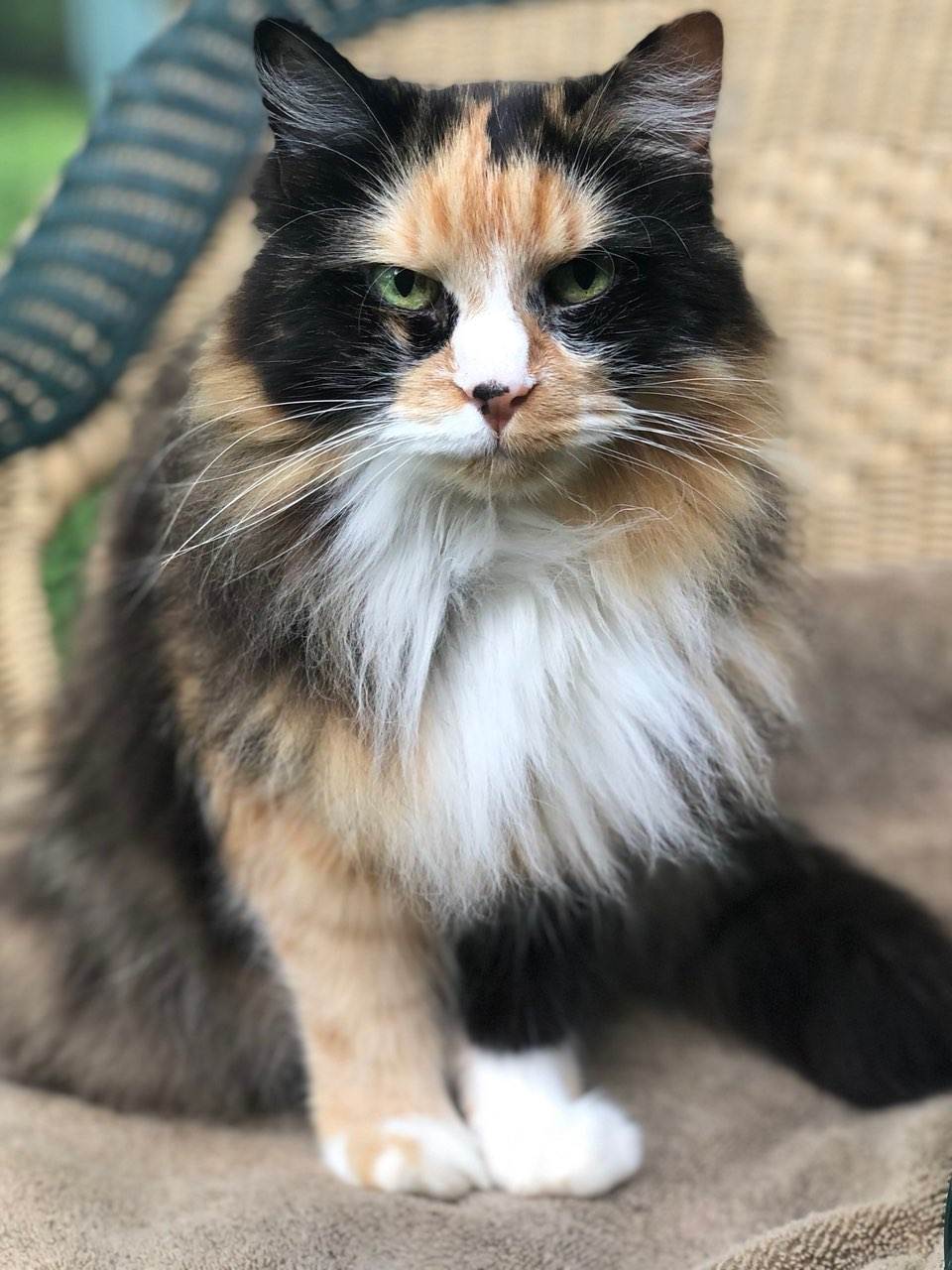 The Forest Lake Veterinary Hospital made a New Friend in 2005 when Lily was brought to us at 12 weeks old with a broken pelvis. We provided her with the care she needed, and she provided us with profound companionship until she retired to Rita's house (our customer care representative) in 2015. After a long life of comfort and love, we said goodbye to our Old Friend Lily, when she crossed the rainbow bridge on July 20th, 2021.
In memory of Lily we are dedicating her page to helping more New Friends to find their forever homes, and to remember other Old Friends that have left their paw prints on our hearts.
New Friends
Nala
The sweetest chirping girl with an unknown past. Nala is estimated to be 1-3 years old and may have previously had a litter of kittens. She is now spayed and up to date with vaccination and looking for her forever home.
Nala seems to do best in her own space as she has gotten temperamental around male foster cats. However, she may do ok with another independent, non-dominant cat. She doesn't need you to pet her constantly, as she'll rub on you all day long for attention, but she does like to be in the same room as you or she will meow and chirp. She enjoys being brushed which will she'll benefit from with her medium/long silky black coat and her favorite thing to do it play with her squeaking mouse toys and hide them in safe places.
This petite girl has a mighty personality once she is comfortable, but with her unknown past, it may take her a little while to feel fully adjusted in her new forever space.
She has not been exposed to children, but she has playfully gone after the fosters feet/legs when leaving the room. Respectful older children may be appropriate with her playful mightly huntress nature. She met a dog from afar and became an instant Halloween cat, but could do well with cat savy dogs in her furever home.
Reach out by email if you are interested in growing your family by 4 paws.
To apply to adopt her, email [email protected].
---
Adopt one of the following pets from Safe Hands Rescue.
All dogs have had a vet examination, are up to date on all vaccinations, have been given dewormer and heartworm prevention. Dogs over 7 months have been heartworm tested. We can only place animals in homes within a 100 mile radius of Minneapolis. If you are interested in meeting this dog please complete the adoption application on Safehands Rescue's website under Adopt and then they can contact you about setting up a meeting.
Toby
Meet sweet Toby! Toby is a moderate energy guy. He loves his toys, the resident animals (dog and cats), and running around the backyard. Toby is such an entertaining guy to watch as he plays. Toby likes to hang out near his people, but is a shy guy. He is great at going outside for potty breaks and loves running around the fenced backyard and loves saying hi to the neighbor dogs. Toby is a great guy, if you are interested, the foster would love to tell you more about him.
While we are unsure of his past, we know he has so much potential and looking for that special someone to be patient and willing to continue working with him. He is timid around new people and situations. We've been working with a trainer to help build his confidence. Safe Hands will provide him adopter a training session to help him adjust and be set up for success. Toby is looking for a quieter home with another dog that he can take the lead from. Since Toby has not been comfortable with using a leash, a securely fenced yard is required.
Toby is estimated to be 2 years old and 12 lbs. Since we don't know the dog's actual genetics, this is just a guess on breed and size when grown.
Owen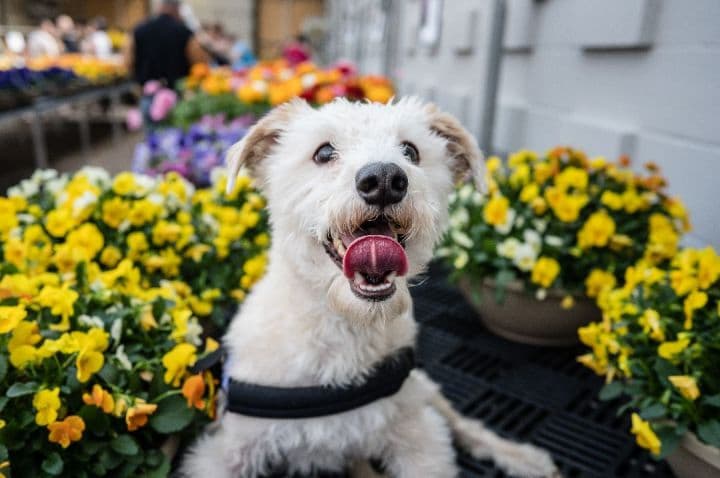 Meet Owen! This sweet boy is looking for a special home. He loves to play in the backyard, play with his purple ball and kiss his humans. He also loves Kongs stuffed with kibble and peanut butter, Nylabones, his stuffy Taco toy and napping on soft dog beds. Owen is a good snuggle buddy, but is still a young dog therefore is pretty busy and has lots of things to do. Owen likes to help with the laundry by dragging items out of the basket to play "keep away" with. Owen likes to meet friendly strangers and new people. Sometimes he is a little coy or shy at first, but once he knows you want to pet him and snuggle him, he warms up pretty quickly. He loves to explore new parks with foster mom. We are also working on sitting still for brushing and nail trims, but he is a young guy and intelligent. He learns quickly. He lives with a 11 lb resident dog and a 7 year old boy and enjoys the company of both.
When we rescued Owen he had limited mobility in his back legs and was incontinent. He has been going to physical therapy and has made great strides and while he can use his back legs and can zoom around quite fast, even if it's not quite "normal"! Owen is still incontinent. We do not know how much more he will improve but Owen is a very silly and intelligent boy who has SO MUCH love and so many laughs to create with you. He's our special needs boy that is looking for a special adopter to love and provide him with whatever he may need.
Owen is estimated to be almost two years old and weighs 24 lbs. Since we don't know the dog's actual genetics, this is just a guess on breed and size when grown.
Stella
Stella is a very special lab mix. She enjoys going outside and has occasional zoomies, which always makes us smile. Stella behaves well on walks and on car rides and loves socks - she will happily pick them up and store them on her bed for you. Collecting toys of any sort is her favorite thing to do. We never know what we're going to find near her bed. She gets along great with other dogs and would love another dog companion. She loves playing chase and running around the backyard.
Stella prefers limited contact with people and tends to shy away from direct contact. When she wants attention, she is a big fan of face rubs and is learning that belly rubs are quite nice. Stella is almost completely house trained. She is gentle with kids but startles easily, so rambunctious kids may not be the best home for her. She has not been around cats in her foster home.
While we are unsure of her past, we know she has so much potential and she just needs that special someone to be patient and willing to continue working with her. She is very shy and unsure around people and new situations. We have been working with a trainer to help build her confidence and get her used to life indoors and with a family. Safe Hands will provide her adopter two training sessions to help Stella adjust and be set up for success. Her forever home will need to commit to giving her time to settle and build trust.
Stella is looking for a quieter home preferably with another dog that she can take the lead from. While she goes on walks, she is still cautious so a fenced yard will be needed so she can run around and do those zoomies.
If you are interested in learning more or meeting Stella, please submit an application and the foster will be happy to provide further information about her.
Stella is estimated to be 7 years old and 47 lbs. Since we don't know the dog's actual genetics, this is just a guess on breed and size when grown.
Old Friends
Rugby
January 2008- August 2021
Rugby was a rescued lab mix who lived for his people, water, and playing fetch. He never met a person he didn't love. He absolutly loved to be dressed up, he would prance around in his Halloween costumes, showing them off. He is greatly missed every day by his family.
---
We are using this page as a memorial space for patients and friends who have crossed the rainbow bridge. If you would like to have your pets memorial posted please email it to [email protected].